EXPERIMENTAL LAB OF MUSICAL INSTRUMENTS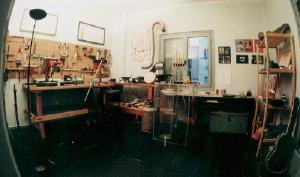 The lab was specially created at IEMA in order to carry out the "Eniha" training projects concerning the construction and repair of music instruments assigned to the Institute by the European Union. The project's aim is the study of the Greek traditional and historical instruments, appreciation of their value, preservation, revival and reconstruction and finally the development of new experimental music instruments.
It is fully equipped for the a) construction of wooden and metallic instruments (2 workbenches, band saws, drilling machines, clamps, chisels, etc) and b) use of new technological means (i.e. spectrum analysis) in order to develop new ways of constructing music instruments.
The experimental lab of Music Instruments is unique of its kind in Greece. It is accessible to the public and a large number of instruments has been created on its premises.
"Eniha" - European Union Training Program for the Construction of Music Instruments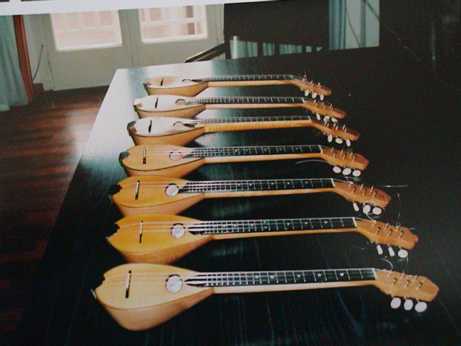 One of IEMA's aims is the creation of work placements and training programs concerning the construction of musical instruments. This goal was fulfilled under the project "Eniha" which was financially supported by the Greek ministry of Culture and EU funds. The project was realized between 1991 and 1992.
Response to the program was significant reaching 120 applications for participation. From these twenty students were selected to attend the course which included theoretical (theory of traditional music, development of hearing, listening to instruments etc) and practical approaches to the topic. Three different practical strands were followed: a) string instruments, b) wind instruments and c) multi-string instruments. During the "Eniha" project participation reached the sum of 40 people who are currently working as instrument makers or instructors of instrument making.