CONFERENCE: MUSIC INFORMATION AND SOCIETY IN THE FRAME OF 2012 IAMIC ANNUAL MEETING
IAMIC Annual Conference, Friday 22 June 2012,
in the frame of Annual Meeting and General Assembly IAMIC (21-25 June 2012)
The Institute for Research on Music & Acoustics organize the conference
"Music Information and Society
"
The Conference will be held in Athens at 22 June 2012 in Onasis Cultural Center in the frame of the Annual Conference, Meeting and General Assembly of the International Association of Music Information Centres (IAMIC).
The conference has as aim to explore all aspect of Music Information related to the Society.
E.g. what Music Information includes, how Music Information is influencing the Society, how can function in favour of it.
10.00 – 17:30

9:30 – 10:00

Registration

10:00-10:30

Session 1, Welcome – preliminary brief speeches

Welcome message from the Hellenic Ministry of Culture and Tourism

Olga Smetanova, IAMIC president

Stef Connix, Chairman, European Music Council (EMC)

Christos Carras, Director Onasis Cultural Center

Kostas Moschos, director of IEMA-GMIC, "Scope of the conference",

10.30 – 12:00

Session 2, Music information and Music Industry Chair: G.M. Klimis

Alexis Baltzis, Ass. Professor, School of Journalism and Mass Media Studies, Aristotle University of Thessaloniki "Need of a systematic collection of data for the music industry"

Antigoni Efstratoglou, Phd Candidate Panteion, "The role of genres in music information"

George Markakis, sociologist, communication scientist, journalist, radio producer, "How much the Music Information flow from media is contributing to an equal rewarding"

12:00-12:15

Coffee Break

12.15 – 13:45

Session 3 - Music Information in the digital era

Chair: Antonis Plessas

George Michael Klimis, Ass. professor, Dep. Communication Media and Culture, Panteion Un., "Music Information and the new media landscape"

Kostas Kassaras, Phd Candidate Panteion, "Music Information in Social media"

Jacob Matthews, Professor, Communication Science, University Paris 8, "The information needs in the live music sector and potential changes in the digital era"

13:45 – 15:00

Lunch Break

15:00 – 16:30

Session 4 - Music Information specific needs

Chair: Elizabeth Bihl

Kostas Moschos, Director IEMA, "Classification of Music Information"

Stefania Merakou Director of Music Library of Greece "Lillian Voudouri", "Music Information and Music Libraries. The case of Music Library of Greece "Lillian Voudouri"

Charilaos S. Lavranos, M.Sc. in "Information Science" "The Information needs of a music ensemble. Evidence from the "Kapodistrias" Philharmonic band of Corfu"

16:30 – 17:30

Session 5 – Closing session

Chair: Kostas Moschos

Round Table: "Music information as development vehicle"

Christos Carras, Director Onasis Cultural Center, Giorgos Myzalis, Hellenic Society for the Protection of Intellectual Property (AEPI), Georges Perot, Head of European Network Development and Member of Administrative Council "European Music Day Association", Antonis Plessas, Composer, Producer, Dimitris Raftopoulos, Lifelong Learning Research Institute.
The program the abstracts and the CVs are available in PDF
Conference proceedings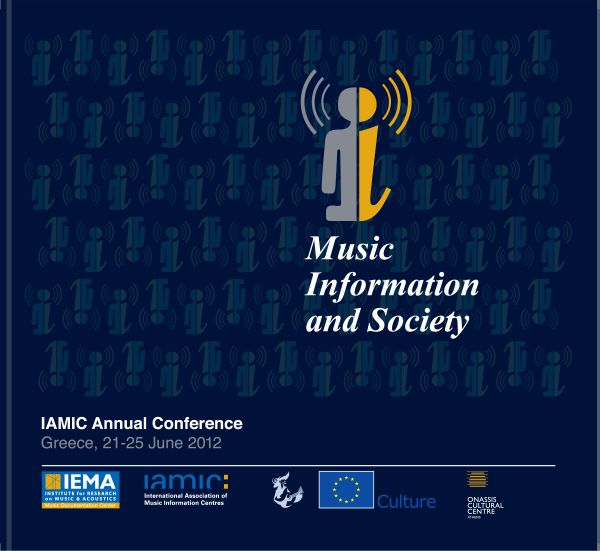 Organiser:
IEMA-Greek Music Information Center
Adrianou 105
Athens 10558
phone: +30-210-33.10.129
fax: +30-210-33.10.497