EVENTS
Composers Forum
Composers Forum is a cycle of music events dedicated to contemporary music, where well-known and rising young composers present their work assisted by recorded musical samples and live performances. These are followed by public discussions. Currently, more than 25 composers have presented their work during the course of the forums.
Musical Investigations
"Ein kinderspiel", March 18, 1999

The pianist Reima Raias plays works of Kurtag and Lachenmann to the children.

"Sweet Music", May 22, 1995

Concert organized in the frame of "Musical Investigations" cycle. The program includes works of Olivier Messian, Karlheinz Stockhausen, John Cage, Iannis Xenakis, and Claude Vivier. Works are performed by music ensemble "Actis".

Marathon of Electro-acoustic music, June 1994

Electro-acoustic music marathon with works of Greek and German composers. The concert was organized by IEMA with the collaboration of The Greek Composer's Association (Enossi Ellinon Moussourgon).

"Three-day seminar on Electracoustic Music and Concert", University of Patras, June 1-3 1993
"Seminar on electro-acoustic music and concert", Patras Conservatoire, 1992
Festivals & Tributes
June 21 1997 - Music Improvisation at the Roman Market for the celebration of the Day of Music
December 1997 - "Iannis Xenakis - 75 years from his birth". An event dedicated to the work of Iannis Xenakis in the frame of "Thessaloniki Cultural Capital of Europe".
June 1996 - Music Improvisation Festival

A celebration of contemporary music in the form of a three-day festival, acting as a melting pot of music genres via the creation of musical discourses through improvisation at "Technopolis" Gazi, with the participation of 75 music groups and 250 music performers.

October 1995 - "Walter Zimmerman" A two-day tribute to the composer. His works were performed by "Actis" music ensemble.
June 21st 1992 - Celebration of the Day of Music at Zappeio with the participation of 15 music ensembles from a wide variety of music genres.
Contemporary Music Ensemble "ACTIS"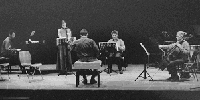 A 15-person chamber ensemble created by IEMA in 1995, specializing in contemporary and avant-garde music. ACTIS is one of the prominent contemporary music ensembles in Greece.
New Composers
New composers present their work to the public
Anastassis Fillipakopoulos
Yiorgos Adamis
Marianthi Papalexandri-Alexandri (see poster in Greek)