INVENTORY OF ALL IMPORTANT CONCERT HALLS IN GREECE
Documentation and evaluation of concert halls, theaters and auditoria within Greece. The work took place between 1990 and 1994 and, sponsored by the Greek Ministry of Culture, it employed 25 researchers who made site examinations of 220 locations. The following information was recorded for each hall: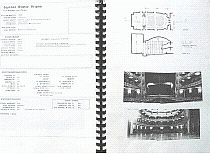 dimensions

architectural designs

photos

acoustic features

technical and musical equipment

supporting rooms

usage

location

management etc.

Τhe results of this research have been made available in digital form (CD-ROM) for networked or individual use.
The project was realized between 1990 and 1994 at a cost of 8.000.000 Drachmas. Twenty-five researchers collaborated and visited all sites. It was funded by the Ministry of Culture and was developed on assignment of the Operational Program "Moussigetis" to be used by the Ministry of Culture and the Megaron Concert Hall of Athens.