YANNIS PAPAIOANNOU ARCHIVE AND WORK LIST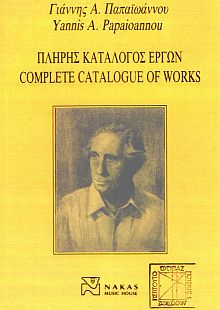 With the use of the above software the "Complete Catalogue of Works by Yannis Papaioannou" has been composed and published in conjunction with Filippos Nakas Music House. The catalogue includes the whole of the late composers' works organized in categories according to music genre and/or instruments used and it's one of the very few complete catalogues of the works of a Greek composer. The printed version of the catalogue is found in every major library across Greece both in Greek and English.

Apart from the catalogue, a systematic evaluation and filing of the music and digitization of the material were made.

The Yannis Papaioannou archive is currently kept at the Benaki Museum.